Free Domains
As a special bonus to Starbird Digital customers, we can offer you free domain name registration for our exclusive our-site.co.uk free client domain.
If you would prefer to register your own domain name, then we can also do that for you. There will be a fee to pay, which depends on the domain name that you choose. Alternatively, you can register the domain name yourself and then edit the DNS in your control panel, so that your site can be hosted by us. Please look at our FAQ page or contact us for further details about domain name registration.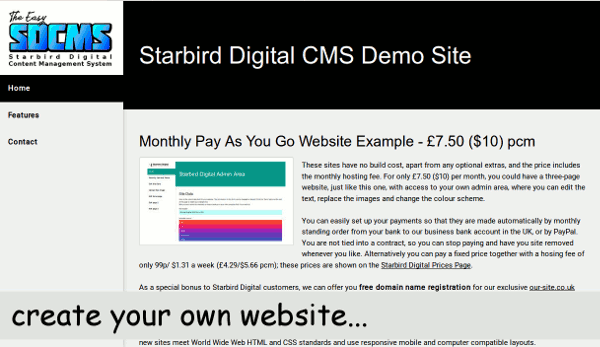 The Easy SDCMS
Effortlessly* create your own website!
The Easy SDCMS is the new Starbird Digital Content Management System. You can easily create your own website in minutes, starting from a template. These website are really (really) good value for money! They start at £7.50/ $10 pcm with no other fees, or £99/$131 plus 99p/$1.31 week hosting. See our prices page for more details.
*Some effort required


Visitor Number: